Write Captivating Blog Posts With the Help of Our
Free
AI Software
To keep up with SEO best practices, websites need to publish blog posts on a regular basis, but you can't just post anything and hope it will help your rankings. Blog posts need to be optimized for SEO, well written and engaging to rank high and draw people to your site. Creating these high-impact pieces takes time. Unless you have the time to do it yourself, you'll have to hire writers or create a separate department to handle the lift. Not every business has the time and money to dedicate to content, despite its importance. That's where Contentedge comes in!
Contentedge is the best AI blog generator available. With our AI writing tool, you can create high-ranking articles in less than a minute. Whether you need a short blog, a full-on how-to guide, or anything in between, Contentedge has you covered.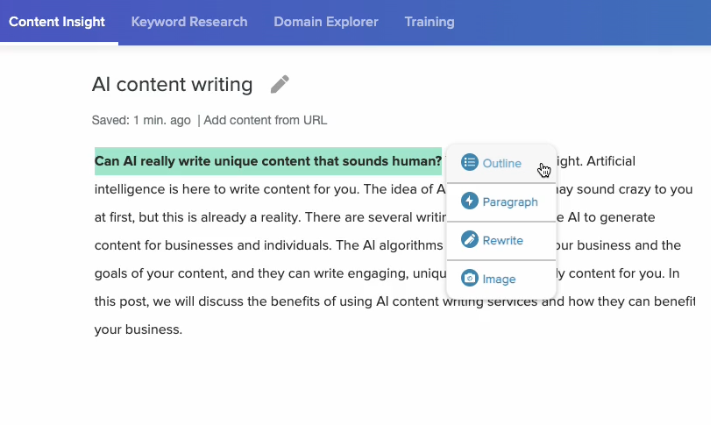 Contentedge is intuitive and customizable. All you have to do is choose the parameters for your blogs, plug in a keyword headline, and give our AI a short description to start with. From the keywords and the short description, our AI technology will create a unique blog in 15 seconds.
Along with powerful AI that creates quality content quickly, we also give you a suite of powerful SEO tools. You can track how your blogs perform, look at analytics to perfect your strategy and see how you measure up to your competitors to make sure you're ranking for the right things.
Along with creating brand-new articles, Contentedge can easily freshen up your old content and optimize it, giving it new life. Using millions of data points, Contentedge will make sure your articles serve your audience, bring in traffic and help you climb the Google rankings.
Effortlessly Create Blog Content in Seconds With Artificial Intelligence
Contentedge uses advanced artificial intelligence to empower our intuitive blog-generation tool. Specifically, our AI uses GPT-3, which stands for Generative Pre-Trained Transformer 3.
GPT-3 is a neural network language model that uses machine learning to mimic human speech. In the past, AI copywriting was instantly recognizable. It sounded awkward and forced and like it was written — well, by an AI. With GPT-3, this no longer has to be the case. Contentedge makes content that sounds natural and like it was written by a real copywriter.
You don't even need an extensive amount of text to get Contentedge started. As we mentioned, a short description is all it takes to get our blog-generating AI off and running. Using your prompt, it will replicate speech patterns and create content that is uniquely yours. You can also factor in content length and readability by looking at the top ranking competitors. There's no awkward text — just high-quality, engaging blogs that you'll be happy to post on your site.
Improve Copywriting Engagement With Semantic Keywords
Contentedge will use your primary keyword phrase to generate content. It can also look at the high-ranking search results for that query and suggest semantic keywords. Semantic keywords are closely related to the original keyword and often have a lot of search volume. Sometimes the competition for these keywords is lower too, despite them having good search volume. Google rewards well-written articles and semantic keywords contribute greatly to your content depth and quality.
With our AI blog-generating tool, you'll rank for more keywords than ever. These keywords will be highly relevant to your readers and customers, drawing in the audience you want to target. It's not enough to just produce content anymore. You need to make sure you're providing content that people actually want to read. With Contentedge, there's no question that you'll be drawing in traffic organically and creating more conversions because of it.
Bloggers Can Turn Content Around More Quickly With Our App
Already have fantastic copywriters? Why not give them more bandwidth and help them create better content in less time? That's what Contentedge can do. Hitting deadlines, overcoming writer's block and avoiding burnout are all obstacles that bloggers face. With Contentedge, your writers can easily make deadlines, create more engaging content and have time to do even more.
Your bloggers can use Contentedge to refine their articles, create high-quality shorter posts while they work on bigger projects and post more articles on a consistent basis. When bloggers don't have deadlines hanging over their heads, they'll be able to create better quality work and focus more on strategy.
Sign up Today to Start Writing for Free
Ready to change your blog for the better? Contentedge will provide you with natural, contextual articles without losing the human touch. Your readers will never suspect your articles were written by an AI. Create better articles, rank higher, save time, and save money.
Sign up for Contentedge and give it a try for free today!