Write Snappy Article Summaries and Blurbs with the Help of Our
Free
AI Software
Your content-writing ventures aren't over after finishing long-form articles or blog posts. Blurbs and summaries are essential to modern digital marketing, and Contentedge can help you create them. It doesn't matter whether your goal is to generate metadata for SEO purposes, short synopses to land yourself on the coveted search engine featured snippet, or you want to give your audience a quick preview of works to come, well-written blurbs are a must.
Our software uses AI technology to generate short-form copy in seconds. We simplify the writing process, helping you save time and money without sacrificing quality. Produce premium summaries of articles, books, TV shows, and everything else you might need. No matter what you and your team are working on, Contentedge has you covered.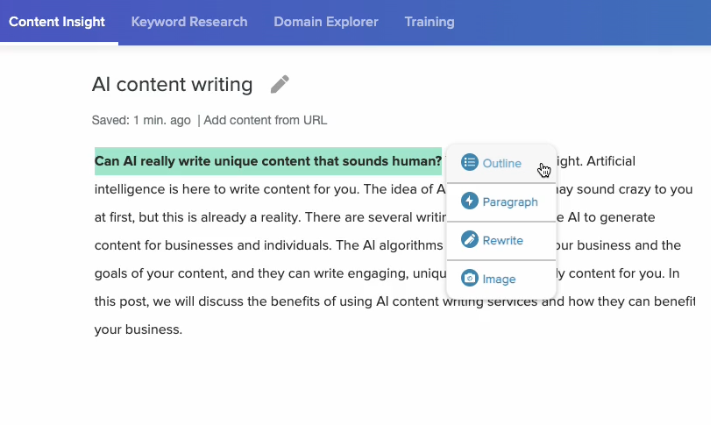 Harnessing the power of machine learning and artificial intelligence is easy with our user-friendly platform. Whether you have an idea of the type of condensed text you need or require some assistance to figure it out, Contentedge does it all. Use the text content generator to set your parameters. Input a title and provide a detailed description and the AI does the rest to deliver high-quality overviews that sound human-made.
We also have built-in keyword research tools to help you write more keyword-rich summaries. Discover keywords relevant to your niche. View real-time search volumes and look at what your competitors are doing. Contentedge analyzes millions of data points to give you insights your team can use to develop a rock-solid SEO and content marketing strategy. Achieve SEO excellence, get your blurbs seen, and ensure that every piece of text you produce has the impact you need.
Create Article Summaries with the Click of a Mouse
It's never been easier to create high-impact blurbs that capture attention and leave your audience wanting more. With Contentedge, all the short-form text you need is only a few clicks away.
Manually writing content is notoriously time-consuming. While you would think that blurbs with a low word count would be easy, there's a real art to summarizing a more expansive piece of work. Don't let this otherwise resource-heavy task hold your team back. Forget the lengthy turnarounds, missed deadlines, and stressful time crunches.
Our AI-powered writing assistant tool generates unique content in as little as 15 seconds! Provide some essential details, and your job is done. In the minutes it would take you to create a single blurb, you can have an entire collection of them ready to go. Get what you need and start publishing in no time!
Effortlessly Write Blurbs for Any Topic with Artificial Intelligence
Are you dealing with writer's block or creative burnout? Contentedge has your back. Dump the frustration of finding innovative writing ideas and let our artificial intelligence take the reins. Our software uses a highly advanced form of AI. It's not the rudimentary text generators from the past.
We harness the power of the third-generation Generative Pre-trained Transformer, also known as GPT-3. This revolutionary neural network machine-learning model is capable of creating contextual and sophisticated text. Provide a short brief to get the AI started, and it fills in the rest. The result is work that sounds human-made. Words flow effortlessly, and everything makes sense from a reader's standpoint. There are no confusing sentence strings or phrases that hardly make sense. Your readers won't be able to tell the difference, allowing you to pump out all the blurbs you need without having to put in the time commitment or creative energy.
AI Generator Increases Engagement with Unique, Snappy Synopses
Leave the dull, uninspired blurbs in the past! Our software puts together recaps modeled after high-ranking content. Increase overall engagement with fun, cleverly-written blurbs compelling enough to click.
The software's well-written synopses stand out from the content crowd, ensuring your work is memorable. Encourage engagement and create a level of interactivity that boosts your brand image and improves your bottom line. It doesn't matter what type of summaries you're creating, distinctive blurbs can make all the difference, and Contentedge is here to generate them in seconds.
Sign up Today to Start Writing for Free
Take your blurbs and summaries to the next level with Contentedge. Our AI writer can handle all your high-quality content needs. From short-form recaps to wordier pieces that would take you days to craft yourself, our tool can take care of the entire writing process. Best of all, it delivers the finished work in seconds.
Check it out for yourself and experience firsthand how an AI content writer can boost your team's productivity while saving your business time and money. Sign up now to start using Contentedge for free!