Automatically Write Engaging Product Descriptions With the Help of Our
Free
AI Software
You've done the marketing work to get people on your product page, but then they lose interest and don't end up converting. It might be because your product descriptions aren't doing your products justice. Contentedge can help you by generating engaging product descriptions that will get people to check out.
Product descriptions are an important part of the sales funnel, so they shouldn't be neglected. Whether you're selling on your site or an eCommerce marketplace, you need to make sure they describe your product and interest the customer. Contentedge is a free AI software that can handle these product descriptions for you.
Instead of spending time coming up with product descriptions, Contentedge can get them done in seconds. It has you covered for all of your content writing needs. Learn more about how our tool works below!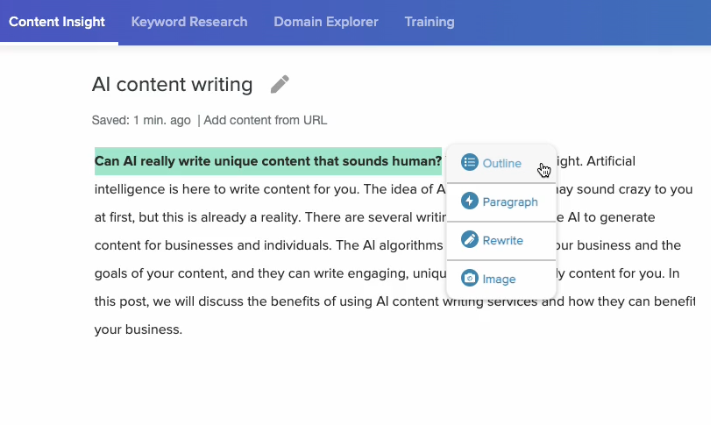 Contentedge is easy to use and highly customizable. First, choose the parameters for your product description, choose some keywords and plug in a short blurb about your product. Our AI writing assistant can take things from there. From your short description and provided keywords, it will produce copy that sounds like a real copywriter wrote.
Along with creating new product descriptions for your eCommerce site, Contentedge can freshen up old products too. If you have a ton of product descriptions that are just 'good enough,' why not make them great? While it might have taken up too much time to rewrite them before, this software makes it so that time isn't an issue. You can get all of those product descriptions refreshed quickly, rather than spending long hours coming up with content.
Easily Generate eCommerce Content in Seconds with Artificial Intelligence
Contentedge uses artificial intelligence to generate your eCommerce content. Specifically, our tool utilizes Generative Pre-Trained Transformer 3, aka GPT-3.
GPT-3 is a neural network language model that harnesses the power of machine learning to create realistic content that sounds human-written. You don't have to worry about your content sounding AI-written anymore. Most people are used to AI-generated content sounding weird or stiff. In short, you can tell when content is written by an AI. With Contentedge, this is no longer a problem. Your customers won't be able to tell the difference between content written by a real copywriter and content written by our AI software. It's that good.
As mentioned, all it takes is a short description and some keywords. Contentedge looks at top-ranking content based on your keyword selection to make your eCommerce content the best that it can be. You can provide as much detail and information as you want to our writing assistant, and it will build content based on that information. Or you can provide a sentence or two. It's up to you. Either way, your fresh, unique content will sound great and get readers interested.
Writers Can Turn Product Copy Around More Quickly with Our App
If you already love the writing team you have, Contentedge doesn't have to replace them. Instead, it can be an incredibly useful tool to help them produce better copy at a faster rate. When writers get overwhelmed, they can run into challenges like writer's block, burnout and missed deadlines. With this tool, they can more easily overcome these challenges and eliminate some of the more tedious aspects of their jobs.
If your writers feel overwhelmed, you don't have to hire new team members. Contentedge can make their workload much more manageable, saving them time and saving you money.
Contentedge can help writers get inspired, improve their current copy and turn around product copy quicker. This allows them to fine-tune copy to perfection, focus on bigger projects and take a step back to focus on content strategy. When your writers don't have to constantly focus on producing content, they can make a better plan for your business and make sure all the copy you put out is as optimized as possible.
Sign up Today to Start Writing for Free!
Ready to take your product copy to the next level? Contentedge is ready to help. With this AI writing assistant, you'll always get top-notch content that sounds natural and realistic. Your readers will get all the information they need and they'll never know the difference.
Contentedge can also take on more than just your product copy and descriptions. It is the perfect AI writing assistant for all your content. You can use it to write emails, blogs, website pages and much more. You'll save time and money, get more readers and create better copy. Best of all, you can try it for free.
Sign up for Contentedge today and see how AI content can help your business!