Automatically Write Engaging Emails With the Help of Our
Free
AI Software
Email marketing is a great way to keep customers engaged and increase conversions. But it's not always easy to create great email copy, and not every company has the time to do it. Instead of spending hours creating email campaigns, why not use Contentedge?
Contentedge is a free AI software tool that can create high-impact email copy in seconds. If you want customers to be interested in what you have to say in your emails, this tool can give you the copy you need. Email marketing is a powerful customer retention channel and a great way to increase brand awareness. But if your emails are falling flat, you're only going to lose subscribers.
Let our AI software take over your email content writing for you. It is the best AI content generator available. From emails to full blogs, you can get the content you need when you need it. Try Contentedge now or read on below to learn how it works.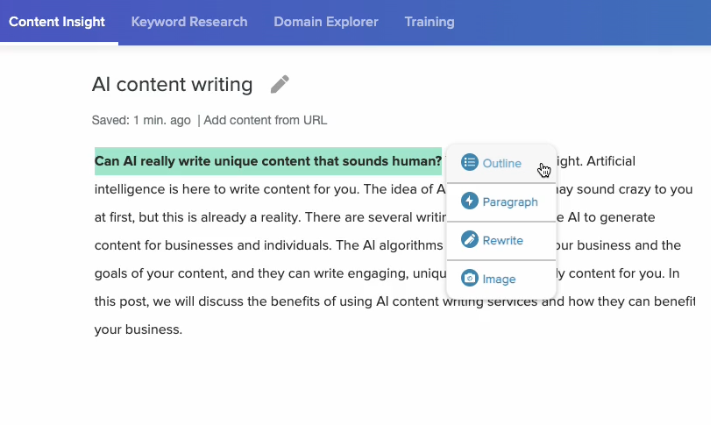 This software tool is incredibly easy to use. All you need to do is set your parameters and provide the tool with a short description. Plug in any keywords or talking points you want to hit and let Contentedge take care of the rest. It will generate a fresh, engaging email in seconds.
Also, if you prefer to write your own email, Contentedge can optimize it and freshen it up. Just provide it with your current content and let it work its magic. You'll get boosted content that is sure to lead to clicks and conversions. Email marketing doesn't have to be difficult when you use our AI writing tool.
Easily Generate Email Marketing Content in Seconds with Artificial Intelligence
Email marketing requires consistency. If you want to remind customers about your business, you need to have a strategy to send out emails regularly. Depending on your business, you may even plan on sending out emails daily. While some businesses have the time and employee bandwidth to do this, many don't. Contentedge can help either way. With it, you'll never miss a scheduled email, and you can create a sense of consistency that keeps customers subscribed to your list.
Contentedge generates your email marketing content by using the power of artificial intelligence. Using GPT-3, or Generative Pre-Trained Transformer 3, we can pump out fantastic content in seconds.
GPT-3 is a neural network language model that can mimic human space through machine learning technology. Typically, you expect AI-generated content to sound stiff or poorly written. In other words, it was obvious that AI-generated content wasn't written by a human. With GPT-3, this is no longer true. A GPT-3 generated email is indistinguishable from human-written copy. It's only strengthened when provided with prompts and talking points by the user.
Generating your email content doesn't require extensive text. Just input your short description, and any other necessary blurbs, and let the AI take care of the rest. Contentedge sounds as natural as possible, allowing you to generate more emails than ever and send them out on a more consistent basis.
Writers Can Turn Copy Around More Quickly with Our App
Contentedge doesn't have to replace your team if you already have top-notch copywriters on your side. If you love the copy that your team puts out, you're also going to love how much this AI software improves their job and work capacity. With it, they can make improvements to their content, get great inspiration and put out more emails than ever.
Contentedge is effective at generating content on its own, but if you make it an extension of your team, it can be a great assistant too. Your teams will have more bandwidth, experience less burnout and hit their deadlines every time.
They can also focus on other, more important content and big-picture strategy instead of spending inordinate amounts of time on email marketing. When they have some breathing room, they'll be able to make your content strategy and email marketing strategy even better.
Sign up Today to Start Writing for Free!
Ready to give Contentedge a try and improve your email marketing efforts? Our AI writing tool will provide you with natural-sounding, engaging emails in a fraction of the time. Your readers will get better email content, and you'll have more time to focus on other aspects of the business. It's a win for everyone. Of course, it can also handle all of your other content needs as well. You can count on it to write a blog, create new pages for a website, write ad copy and anything in between. Save time, money and stress with Contentedge.
Sign up for Contentedge and give it a try for free today!