Automatically Write Engaging Content With the Help of Our
Free
AI Software
Get high-quality content in only a fraction of the time. The Contentedge writing assistant does quick work of creating copy for your websites, blogs, social media profiles and more. Instead of spending time and resources finding that perfect writer, let technology take the reins. In seconds, you can have all the paragraphs and pages you need.
But that's not all. Contentedge generates blogs, blurbs, and articles that mimic human speech — no more obvious automation and random strings of words that don't make sense. Our AI-powered content generator produces quality short- and long-form content that's better written and more engaging.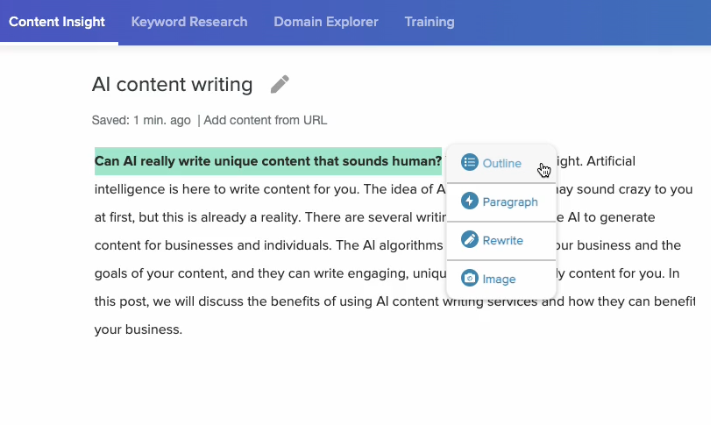 Don't worry; you don't have to be ultra tech savvy to take advantage of our AI writing assistant. All of the magic occurs behind the scenes, leaving you with a user-friendly platform that anyone can use. Whether you're a content writer, a digital marketing expert or a social media manager leading the charge in content creation, Contentedge is a cinch to use.
All you have to do is provide our AI writer tool with the basics. Input a couple of relevant keywords and provide a brief description of the copy you want. Start your piece with a few sentences, and our writing tool takes care of the rest.
In only 15 seconds, you'll have an AI-written piece ready for publishing! Generated content sounds human-made and organic. Your readers won't know the difference, which allows you to pump out all the pieces you need. Save time, frustration, and money without sacrificing your supply of high-quality content!
Permanently Get Rid of Writer's Block and Easily Generate Content Ideas in Seconds
With Contentedge, writer's block is a thing of the past. Creative walls are bound to pop up no matter how often you write. Unfortunately, business doesn't wait for inspiration to strike! Don't let a creative slowdown affect your bottom line.
Our content generator will handle the heavy lifting. You provide the project parameters, and our AI-powered assistant does the rest. It creates human-sounding pieces brimming with inventiveness and originality. It doesn't matter what type of copy you need. Our tool does everything from long-form blogs and creative stories to short descriptive blurbs and informative formal pieces. No matter what you need, Contentedge has you covered.
Say goodbye to delay-causing writer's block and hello to the future of writing!
Automated Outlines Inspire Original Copy
Need inspiration to guide your content creation? Whether you let AI take control or you hand off instructions to a writer, Contentedge ensures that you're getting outlines that are innovative, imaginative, and ready to inspire!
Contentedge is more than a writing tool. Our platform is ready for in-depth keyword research. Create a custom content strategy and determine the best approach to get clicks. In minutes, you can see what power keywords you need to make an impact in your niche. See what your audience is looking for and find topics that cater to their unique tastes.
Our research tool analyzes a million data points to create outlines that are ready for creative minds to tackle. See what keywords to include, what readability level to shoot for, and more. You can also see how your newly created content stacks up against the competition. Stay one step ahead of the curve, and you can dominate the content marketing game. Whether you produce copy yourself, send an outline to a writer, or use your research to feed our AI writing assistant, you can rest easy knowing that you're inspiring something original.
Easily Create SEO-Optimized Content With the Click of a Button
Make sure your content gets in front of as many people as possible. It doesn't matter if you're writing about the correct topic for your niche. If it's not optimized, it won't leave an impact. The Contentedge writing tool puts SEO at the forefront.
It generates SEO-optimized copy that plays nicely with search engines. Automatically take advantage of keywords that get all the right attention and combine the ideas with your other SEO efforts to make your page as appealing to search engines as possible. Appease the crawlers and watch your organic traffic boom!
Anyone Can Turn Copy Around More Quickly With Our GPT-3 Based Assistive Technology
Whether you're running against the clock, struggling to meet tight deadlines or dealing with a creative well run dry, Contentedge lets you turn around high-quality content quickly and efficiently. The magic behind Contentedge is in artificial intelligence and machine learning. Our technology takes full advantage of Generative Pre-Trained Transformer 3, an autoregressive language model that replicates human speech better than anything that came before it.
This language model is in its third generation and utilizes deep machine learning to create human-like pieces that flow like natural speech patterns. It's a display of powerful AI at its finest, and it's ready for you to put to use! Anyone can use it. From short summaries to long-form articles with thousands of words, your finished piece is only a button click and 15 seconds away.
Sign up Today to Start Writing for Free
Get human-like text without human intervention! Contentedge is paving the way for AI-produced content that's contextual, realistic and impactful. Let our writing tool take care of all your content needs. Save time, free up writing resources and get quality pieces in seconds. No matter the size, scope or budget of your content marketing project, Contentedge is the game-changer you need. Check it out and see what kinds of custom-generated ideas you can get.