Automatically Write Engaging Digital Ads With the Help of Our
Free
AI Software
Running digital ads is essential for nearly every company in the modern business environment. However, coming up with interesting and engaging copy for these ads is much easier said than done. If you phone it in, your ads could end up being a waste of money. But not everyone has skilled writers on their team, and even companies with writers on board may run into burnout or creative blocks. Contentedge is here to help.
Contentedge is a free AI content generation software that can create engaging, human-sounding copy for your business. Including dynamic, interesting copy for all of your digital ads. If you want to increase clicks and conversions and get people to interact with your digital ads, this tool is your solution.
This AI content generation software can create copy for your digital ads in less than a minute. Whether you need copy for a social ad, a search engine ad or anything else. Try our AI content generator today for free or read on to learn about how our platform works.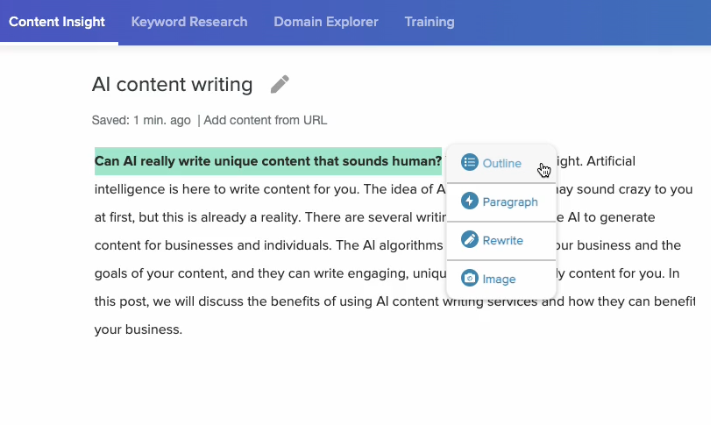 Contentedge is an intuitive AI content tool that allows you to insert custom parameters for your digital ad copy. Simply provide it with a short description and your keywords and let our AI assistant get to writing. You'll have engaging ad copy in just 15 seconds.
Contentedge is the perfect companion for ongoing digital advertising strategies. Instead of spending time trying to come up with catchy, high-impact copy, let the AI software take care of it for you. This platform takes into account other high-ranking, high-converting content when creating your copy, so you can trust you get digital ad content that works.
If you're looking to draw in clicks, conversions and traffic with your digital ads, you need Contentedge.
Easily Generate Advertising Content in Seconds with Artificial Intelligence
Digital ad spend can easily go to waste if you're not putting out copy that converts. With Contentedge, you can increase conversion while also saving time. It's easy to generate advertising content thanks to our artificial intelligence algorithm that runs off GPT-3. GPT-3, also known as Generative Pre-Trained Transformer 3, is a neural network language model that can mimic human speech.
Gone are the days of clunky and awkward AI-generated copy. Previously, you could spot AI copy in an instant. It would read odd or something would be off about it. With GPT-3, you don't have to worry. Your content will sound like a human wrote it and your customers won't know the difference. With machine learning, GPT-3 is only improving, and you can trust that your content will come out sounding like a real copywriter wrote it.
Contentedge hardly needs any input to create great copy. As mentioned, just provide a short description and keywords. It will take care of the rest, and you'll have more great ad copy to run.
Writers Can Turn Ad Copy Around More Quickly with Our App
Do you already have a great copywriting and advertising team? Contentedge doesn't have to replace them! In fact, it can free up bandwidth for them and make their jobs easier.
Copywriters can easily get burnt out with large workloads. Writer's block and impending deadlines can add a ton of stress and tank productivity. Contentedge can ease the burden by sharpening up copy, providing inspiration for new copy and help writers hit all of their deadlines.
When content writers have this AI software on their side, they can offload some of the more tedious aspects of their jobs and focus on strategy. They can take on bigger projects and optimize content to its fullest potential. This strengthens your digital advertising and makes your writers happier. It's a win for everyone involved.
We Help You Get More Conversions on Paid Search, Instagram, TikTok, Twitter and More
Contentedge can help with any digital advertising strategy. With our AI-generated content, you can get quality copy for ads on paid search, Instagram, Meta, TikTok, Twitter and much more. Take the guesswork out of ad copy and let Contentedge help you get more conversions than ever. Ready to get started?
Sign up Today to Start Writing for Free!
Contentedge can take your digital ads to the next level. With it, you can get human-sounding ads in a fraction of the time. Get all of your ads done in minutes instead of hours. Additionally, this platform can help you with blog articles, page content, social media posts and any other kind of content you might need. Your content will be perfect for your audience, every time. Create better ads, get more conversions, save money and save time. Interested?
Sign up for Contentedge and give it a try for free today!